Galway is one of the brightest and most intriguing jewels of the West of Ireland. It marks the halfway point on the Wild Atlantic Way and is the only city on the entire 2500km route. The city is wild and bohemian, and at the same time full of culture, artistry, exceptional food and music. As well as being a popular seaside destination with long sandy beaches, Galway is also a thriving and cosmopolitan city centre. It is always a joy to explore with its wonderful cobbled streets, colourful shop facades, and its offbeat café/bar culture. Galway is also well known for its proliferation of festivals and civic events, with huge crowds gathering for the much-celebrated Galway International Arts Festival, the craic of the Galway Races, the spectacular Macnas Halloween Parade and numerous other events throughout the year. Ireland's great traditions of hospitality have their place in the city too, with turf fires and traditional music featuring in many of the city's pubs. 

Loughrea Golf Club is long recognised as one of the finest Parkland courses in the country. We have a proud tradition of providing a warm welcome to all our visitors and societies. We offer a challenging course - always in excellent condition, and an opportunity to socalise with our members in our friendly lounge and restaurant. The members and committees have continued to improve the length, layout and conditioning of their course over the years and recently hosted many GUI events including the Connacht Junior Cup provincial qualifiers and the Connacht Cups and Shields Finals in 2011. It was on the back of these GUI events that the Connacht Branch's Championship Committee voted the golf course the 'best presented course in Connacht of 2011' and presented an award to Captain Pat Hynes at the Delegates meeting in Roscommon.

Loughrea Beach is located at Loughrea Lake in County Galway. It is of International importance for waterfowl and is a designated Natural Heritage Area (NHA) as well as having been awarded the Blue Flag for the seventh year in a row. The beach is a great place to swim, bathe, fish and relax. There are excellent facilities including changing rooms, toilets, showers and picnic areas. The beach is lifeguarded during the bathing season and more information can be found on the notice boards located at the beach. This beach has received the International Blue Flag award for 2018.

With the organic certified garden central to the business, a horse riding facility began more than 25 years ago and has gradually expanded with small conference facilities, wedding ceremony room, workshop space, a garden pergola and, in 2012, opened the sustain-ably built 9 bedroom guest house and organic certified restaurant called The Three Towers Eco House & Organic Kitchen. The Three Towers Eco Kitchen is one of only 2 restaurants certified organic in Ireland, and the only one in the West! Today Slieve Aughty Centre is a family owned eco-friendly equestrian and activity leisure centre set on 17 acres of rugged Galway land. Guests have miles of trails for walking, cycling, horse riding and exploring nature as well as a stunning location for rejuvenation, relaxation and celebration!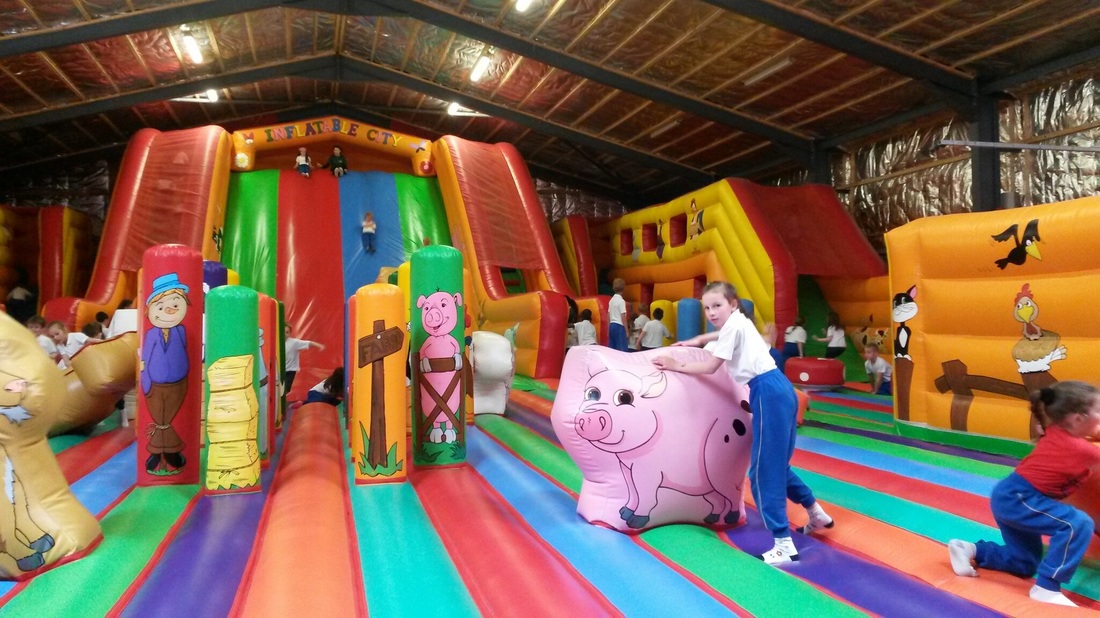 Turoe Pet Farm your children's outdoor and indoor activity center Galway, official website!  Our two state of the art play areas. Including  "INFLATABLE CITY" Europes largest bouncing castle and  "JUNGLE TOWN". These new play areas are the latest in play area technology and have sections to suit all ages including complementary sections for toddlers. Also included in our 14 Acre Park is the Pet Farm, Astro Turf Pitch, Two Outdoor Playgrounds and Indoor Sand Arena. Our two dining areas the Coffee Dock and the Country Kitchen provide delicious Hot Food and Refreshments. Our facilities are Wheelchair and Mobility friendly  with baby changing facilitates also provided.
The Wild Atlantic Way is a sensational journey of soaring cliffs and buzzing towns and cities, of hidden beaches and epic bays. So whether you drive it from end-to-end, or dip into it as the mood strikes, it's going to be a once-in-a-lifetime experience. From the wind-whipped tip of Malin Head to the safe haven of Kinsale Harbour, wrap yourself in the wilderness of the west coast of Ireland on the world's longest defined coastal touring route.